Continental Sandwich: Iberico Loin, Fresh Tomato & Extra Virgin Olive Oil
Bocadillo de Chorizo Frito y Queso Manchego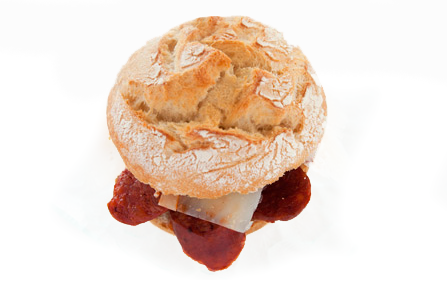 T his simple sandwhich combines two staples of Spanish cuisine, Chorizo Sausage and Manchego Cheese, and the result is delicious.
Ingredients
Sol Chorizo Sausage 200g
1 Tablespoon of Extra Virgin Olive Oil
Sol Manchego Cheese Wedge
Bread Buns (4)
Directions
Preparation:

30-40

min › Cook:

–

min › Ready in:

–

minutes
Heat 1 tablespoon of Olive oil in a frying pan. Sliced the Chorizo Sausage, cook the chorizo sausage slices until lightly golden, turning regularly. Remove and place on a plate with with a kitchen towel to absorb the excess.
Cut a bread bun in half and place the chorizo slices on top of one the halves. Sliced the Manchego wedge and arrange some slices of the Manchego cheese on top of the Chorizo, cover with the other half of the bread bun. Repeat with the rest of the bread buns.
Enjoy
Fried Chorizo Sausage & Manchego Cheese

Iberico Loin, Fresh Tomato & Olive Oil