Continental Sandwich: Iberico Loin, Fresh Tomato & Extra Virgin Olive Oil
Pulga de Lomo Ibérico, Tomate y Aceite de Oliva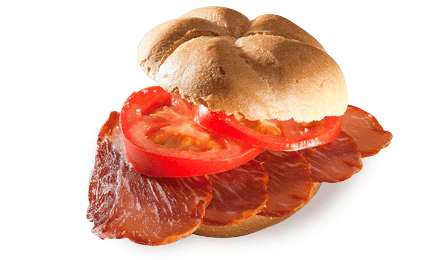 I bérico pork loin, with fresh tomato, extra virgin olive oil and bread. Perfect for a brunch, a party or afternoon snack
Ingredients
Sol Iberico Loin Sliced (110g)
Tomatoes (2)
Sandwich Buns (4)
Extra Virgin Olive Oil
Directions
Preparation:

10

min › Cook:

–

min › Ready in:

–

minutes
Wash the tomatoes and cut them into thin slices. Cut the bread buns in half and drizzle a little Spanish extra virgin olive oil onto each of the halves.
Divide the slices of Ibérico cured loin between four of the eight halves of bread.
Place a few slices of tomato on top of the pork and serve.
Fried Chorizo Sausage & Manchego Cheese

Iberico Loin, Fresh Tomato & Olive Oil