Continental Sandwich: Iberico Loin, Fresh Tomato & Extra Virgin Olive Oil
Pulga de Jamón Serrano y Pisto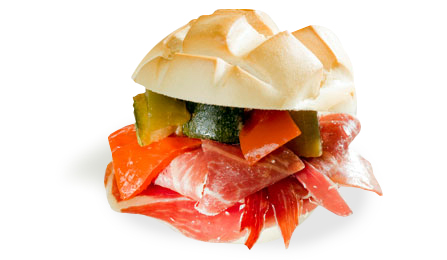 M ini bread roll with Serrano cured ham and "pisto manchego", This tasty tapa combining the saltiness of the cured ham with the texture of the vegetables in the pisto (a Spanish ratatouille).
Ingredients
Sol Serrano ham Sliced (125g)
Tomatoes (2)
Extra Virgin Olive Oil
Small Red Pepper (1)
Small Green Pepper (1)
Small Zucchini (1)
Small Eggplant (1)
Onion (1)
Thyme
Salt
Black Pepper
Garlic Cloves
Bread Buns (4)
Directions
Preparation:

30-40

min › Cook:

–

min › Ready in:

–

minutes
Cut the tomatoes in half and grate them over a bowl, discarding the skins. Pass the tomato through a sieve and reserve. Remove the seeds from the peppers and cut them into 1cm / ½ inch thick pieces. Cut the zucchini and eggplant in the same way.
Smash the garlic cloves with your hand or the blade of a wide knife keeping their skin.
Slowly heat the olive oil in a frying pan and sauté the garlic until golden (about 2 minutes). Add the onion, chopped into 1cm / ½ inch cubes and the thyme. Sauté the onion until soft. Add the peppers to the pan and cook during 3 minutes or until soft. Next, add the zucchini and sauté during 3 minutes. Finally add the eggplant and cook for another 3 minutes. Add the tomato purée and cook during 5 to 10 minutes. Sprinkle with salt and black pepper according to taste.
Next prepare the sandwiches. Cut the bread buns in half. Share the Serrano ham between four of the eight halves. Finish the sandwiches by placing some pisto on top of the ham and putting the other half of the bun on top of each one.
Fried Chorizo Sausage & Manchego Cheese

Iberico Loin, Fresh Tomato & Olive Oil