Olive, Sundried Tomato and Feta Focaccia.

A true taste of the mediterranean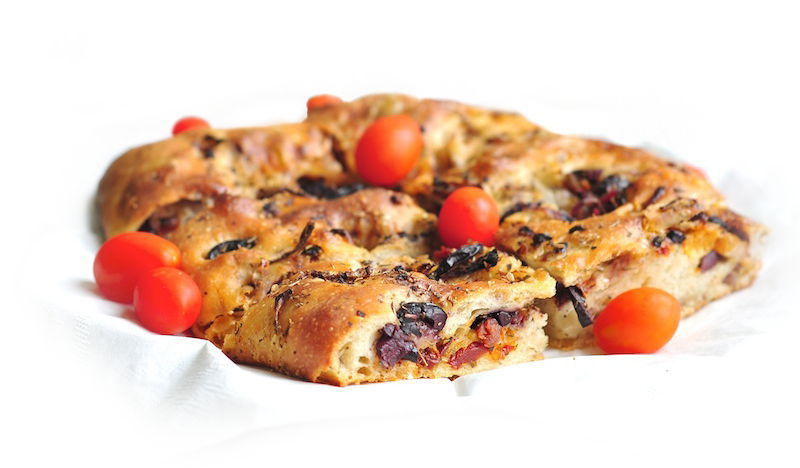 D elicious served with Sol Serrano Ham, Sol Houmous, or simply as an accompaniment to olive oil. A homemade Olive, Sundried Tomato and Feta Cheese Focaccia is sure to impress at any party.
Ingredients
Strong Bread Flour (650g plus extra for dusting work surface)
Active-Dry Yeast (1 1/2 tsp)
Lukewarm Water (400ml)
Sugar (1 tbsp)
Salt (1 tbsp)
Extra Virgin Olive Oil (230ml)
MySolDeli Pitted Black Kalamata Olives (100g)
Sol Sundried Tomatoes (100g)
Sol Feta Cheese (100g)
Directions
Preparation:

4

hrs › Cook:

30

min › Ready in:

40

minutes
Mix together the warm water, yeast and sugar in a small bowl. Allow the bowl to sit in a warm place until the yeast begins to bubble. This should take about 15 minutes.
In a large mixing bowl, combine the flour, salt, half of the olive oil and the yeast mixture. Use a wooden spoon to thoroughly mix together until a sticky dough begins to form. Transfer the dough to a lightly floured work surface and knead by hand until elastic and smooth. Coat the mixing bowl with a drizzle of olive oil before returning the dough to the bowl. Cover with cling film and allow to stand at room temperature for a few hours until it has risen and the surface has become dotted with air bubbles.
While the dough is rising, prepare the olives by slicing them into 1/4 inch rings, chop the sundried tomatoes into small pieces and dice the feta cheese into small cubes. Add these to the dough once it has risen.
Lightly dust your work surface with flour and transfer the dough to it. Mould the dough into a long, round, flat shape. Sprinkle lightly with flour on top, and use your fingers to create small holes in the surface of the dough.
Use the remaining olive oil to grease the surface of a large baking tray. Gently transfer the moulded dough to the baking tray, loosely cover with wax paper and allow to stand in a warm place for an hour.
Preheat your oven to 220oC while the dough rises. Liberally sprinkle the focaccia with sea salt and drizzle some olive oil across the top.
Transfer the baking tray to the preheated oven and allow to bake for about 30 minutes, until it has turned a golden-brown colour. Lift the focaccia from the oven and transfer to a wire rack to cool.
Made with: