Potatoes in spicy tomato sauce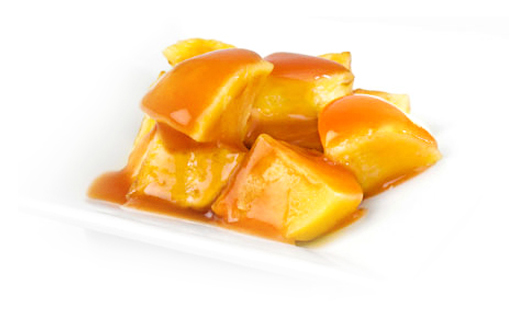 T he combination of garlic, pimentón and chili pepper in the seasoning is difficult to marry with a wine but the rounded fruitiness of a Syrah from La Mancha successfully rises to the challenge.
Ingredients
Medium Sized Potatoes. (3-4)
Olive Oil. (300ml)
Chopped Onion. (125g)
Chopped Tomato. (125g)
Small Garlic Clove. (1)
Hot or sweet Pimentón. (15g)
Flour. (15g)
Water. (500ml)
Directions
Preparation:

10

min › Cook:

20

min › Ready in:

40

mins
Peel the potatoes and cut them into medium-size chunks.
Fry the potatoes gently for about 20 minutes, making sure that they are cooked through. Then turn up the heat and cook the potatoes for 3 o 4 minutes more to give them a nice golden colour.
Put them on a plate with some kitchen paper to drain them well, transfer them to a serving dish and pour the sauce over them.
To make the sauce, heat a little olive oil in a pan and add the chopped onion, tomatoes and garlic along with the pimentón.
Allow the ingredients to soften for a few minutes and them sprinkle in the flour and stir well.
Cook the mixture for a short time before adding the water. Then, whizz the sauce in a blender until smooth. You can serve it either hot or at room temperature.