Spanish Breadcrumbs with Serrano Ham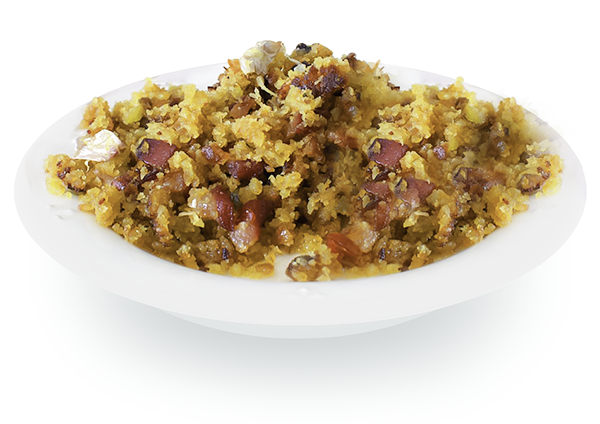 A true treasure of Spanish Cuisine, adding intensely flavoured bread crumbs can give a dish that extra punch, or be the dish itself. Migas are a traditional Spanish dish that has many versions. An ancient and original snack, Salted, then Fried in Olive Oil and finally flavoured with Jamon Serrano,
Ingredients
Two day old Crusty Bread with Crust Removed(200g)
Extra Virgin Olive Oil (125ml)
Sol Serrano Ham (100g)
Garlic (3 cloves)
Large Dried Red Chilli (1)
Sea Salt
Directions
Preparation:

3

hrs › Cook:

15

min › Ready in:

15

minutes
Remove the crusts from the bread and cut it into long, thin strips. Spread the strips of bread out on a tea towel and lightly sprinkle with water and salt. Wrao the pieces of bread up in the towel and allow to sit for about two hours.

Chop the Serrano Ham into small pieces. Heat two teaspoons of the olive oil in a frying pan. Add the Serrano Ham and fry until crispy. Remove the ham from the frying pan and drain off any remaining oil with kitchen paper.

Unwrap and tear the bread into large pieces. On a clean pan, heat the remaining oil. Bruise the garlic with the back of a knife and transfer it to the pan to fry until it becomes a golden colour. Remove and discard from the pan. Add the breadcrumbs to the now garlic-infused oil, and stir-fry until they become golden-brown in colour.

Deseed and finely chop the chilli. Stir the chilli and Serrano Ham into the breadcrumbs and serve hot.
Eat with your fingers or a little spoon.

Made with: